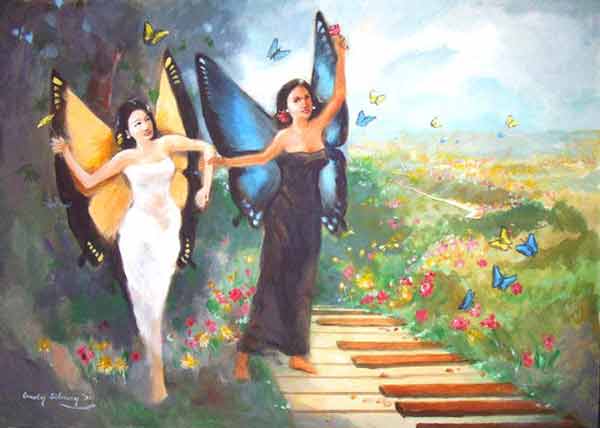 Harmony.
50 x 70 cm, Acrylic on canvas.

This picture symbolizes the harmony of two ethnics, the Malays and Chinese. They are symbolized as butterflies, the blue and the yellow ones, bringing red and yellow flowers. In the background there are also many blue and yellow butterflies, and many red and yellow flowers (also some white).
In the foreground, the small street was painted as piano keyboard; this was inspired by the lyrics of songs by Paul McCartney and Stevie Wonder, ..

Ebony and ivory
Live together in perfect harmony
Side by side on my piano keyboard
Oh Lord, why don't we?

The bars is not black and white but brown and yellow.
All these components make the picture nice and harmonious; imagine if all the bars are brown, all the butterflies are blue or all the flowers are red .. it will be boring.

This image is property of Erwin Silman. All rights reserved © 2002